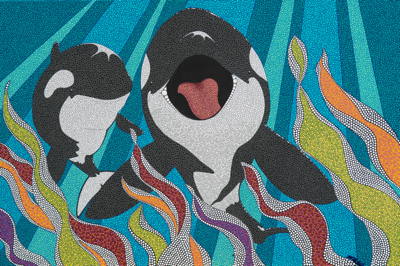 CALL FOR ARTISTS: Requests for Proposal
PROJECT NAME: Call for Artists: Request for Proposal
COMMISSIONING ORGANIZATION: City of Campbell River, Public Art Sub-Committee
APPLICATION DEADLINES: March 15 + September 15 2017
BUDGET: Annually, $25,000
SUMMARY
The City of Campbell River seeks Public Art Proposals from artists and artist teams to go before the Public Art Sub-Committee twice yearly. The deadlines to submit proposals will be March 15 2017 and September 15 2017. Please review the following items required to submit a complete proposal.
The City of Campbell River's Public Art Sub-Committee seeks to cultivate a more vibrant community where the city is visually exciting and spaces are identifiable. With this call for artists to submit a Public Art Proposal, we seek artists who are interested in cultivating a sense of place where art in all its forms are incorporated into everyday life. We encourage artists and artist teams working in a wide range of media, permanent or temporary, to apply.
POSSIBLE PROJECT CATEGORIES:
Community Based
Foster collaborative art making practices by integrating professional artists into various community groups or processes. Encourage a collective method of art making, engaging artists and communities through collaborative, creative expression.
Special Projects
Embrace projects that encourage artists to explore the process of creating art through alternative approaches such as residencies, new media, interactive, video and sound based works.
Permanent Site-Specific Projects
Artworks designed for a specific location in the City of Campbell River. The artwork is intended to be a permanent fixture in the public space, and will be maintained as such. Such projects will encourage place making and act as a point of interest for local and international tourists.
ARTWORK GOALS
Have Public Art viewed as a valuable contributor to the economic, social and cultural development of Campbell River. Encourage local tourism and create signature features for international guests.
Incorporate Public Art into the design and execution of selected civic and private developments. Encourage partnerships between creative professionals, community groups, social development programs, artists, children and other cultural groups.
Public Art that fosters the engagement of the community in public spaces through storytelling, music, sound, performance, dance, literature, spoken word, new media and fine art. We encourage inclusion of all cultures and sectors of the community to apply.
BUDGET
Maximum budget allocation: $25,000 annually.
The budget includes the following allotments:
80% must be used for the creation of art work and pay for the cost of design, fabrication and installation of the work
10% may be allocated to project administration, programming, collection management and expenses associated with the jury selection process
10% is allocated to a maintenance fund
The balance is carried forward yearly and drawn on when necessary.
Projects that require more funding than our current budget are encouraged to seek matching funds.
ARTIST ELIGIBILITY
Professional, emerging, and student artists, as well as artist teams are encouraged to apply.
SUGGESTED APPLICATION GUIDELINES
Applicants should consider submitting some (or all) of the following for consideration:
Visual work: up to 10 images
– Digital images should be on CD or DVD or sent via e-mail through file sharing
– Each image must be clearly identified with name, number, title, dimensions, year and a numbered image list (files should read: 01artistnameTITLE.jpg)
– Please clearly identify images that are directly related to the project or are drafts for the proposed project
Letter of Interest
– Introduce yourself; describe your interest in the project, your approach to creating public art, and any past relevant experience
Curriculum Vitae
Artist statement, maximum 500 words
References, 2 minimum
Project Proposal:
– Full written description of project, max. 1 page
– Timeline, including research, design, fabrication, installation and maintenance
– Mock-ups and artist renderings
– Budget
Please allow 2 months for response after deadline.
Upon request, artists may be required to provide a presentation before the City of Campbell River Public Art Sub-Committee.
All submissions must be postmarked, or hand delivered by the date and time of the deadline to be considered. Proposals to be returned to artists must include a self-address stamped envelope.
Proposal Evaluation Guidelines
The Public Art Committee shall consider and evaluate the following:
Quality – Artistic merit of the artwork proposed
Media – all visual and tactile forms shall be considered
Consistency with the parameters established in the proposal call guidelines
Elements and design – art in public places may function as art standing alone, focal points, modifiers of specific places, or establishers of identity
Appropriateness to the proposed building or site
Diversity – reasonable diversity shall be attained in style, scale, media and materials represented
Technical feasibility – can the work be built as designed?
Cost feasibility – can the work be built within the budget?
Permanence and Maintenance: Public safety considerations, due consideration shall be given to structural and surface soundness and to permanence in terms of relative proof against age, theft, vandalism, weathering, or excessive maintenance or repair costs
Ability of the artist to complete the work as submitted – Evidence of successful past artistic projects as outlined in C.V. and references
Other considerations arising from the process
SUBMISSION ADDRESS
City of Campbell River
ATTN: Public Art Sub-Committee, Proposals
301 St. Ann's Road, Campbell River, BC
V9W 4C7
T: 250.286.5700
E: arts.council@crarts.ca
SELECTION CRITERIA
– Critical discourse related to contemporary art, public art, place-making, and or historical relevance
– Realization of the project description
Sustainability
Accessibility
Community Engagement
Budget
SOURCES FOR ADDITIONAL INFORMATION
campbellriverpublicart.ca
RESOURCES FOR QUESTIONS
Ken Blackburn, Chair of the Public Art Sub-Committee
E: arts.council@crarts.ca